(
above, a sketch from my visit)
I've just left Angelina's and am walking along the rue
de
Rivoli
, trying to arrive to the
Lacroix
exhibit, but I'm distracted along the way, for all the reasons that draws one to Paris...like the above bookshop, with windows stylishly overflowing with a tingling disarray of books on fashion icons, designers and sketches -- raising my heartbeat for what
Lacroix
is going to reveal...
...and the Parisian police -- decked out in their bicycle gear and bikes, ticketing the rows of illegally parked cars, snapped just before stepping into the museum...
the exhibit poster, just before entering...hardly a barometer for what is to come!
...and the exhibit-- an over-the-top- intoxicating-fashion-fantasy!
Lacroix's
inventive flair and dazzling creativity, in room upon room, spilled stimulating color, texture, shape, technique and style that leaves the viewer inspired with historic wonder and the possibilities of modern dressing. Filled with the madly sketching fashion students and the Parisian bourgeois crowd, it is a fashion happening on two sides.
What I loved most
--- the way he took his own clothes and topped them with beautiful hats from the archives,
SMS
-- express your uniqueness. I have started sketching my own
Lacroix
-
Luxe
-Mix -- the idea -- wear all your favorites, all together, when you want, break all rules -- play day and night and dreamy and practical side by side ... ex: jeans with precious couturier blouse, accessories new and vintage, mix Poiret and Cardin. The other key looks that are driving me are the hats or headdress, the feathers giving a lightness, also from shredded fabric edges, the gloves and the netting, touches of netting or tulle and also entire dresses made from black net; wearing light and fluttery with structured 60s equals
Neo
-Hip style.
My sketch is inspired from the "white" group which included exquisite Irish lace or delicately embroidered pieces depicting the feelings of late 18
th
century. The blouse is delicately embroidered with pearls, softly frayed edges in cotton batiste, paired with a white feathered headband with a pale pink band, white patent leather boots with pink buttons and trims, and a soft leather Poiret-style floral belt, black eyes, big, ratted white hair.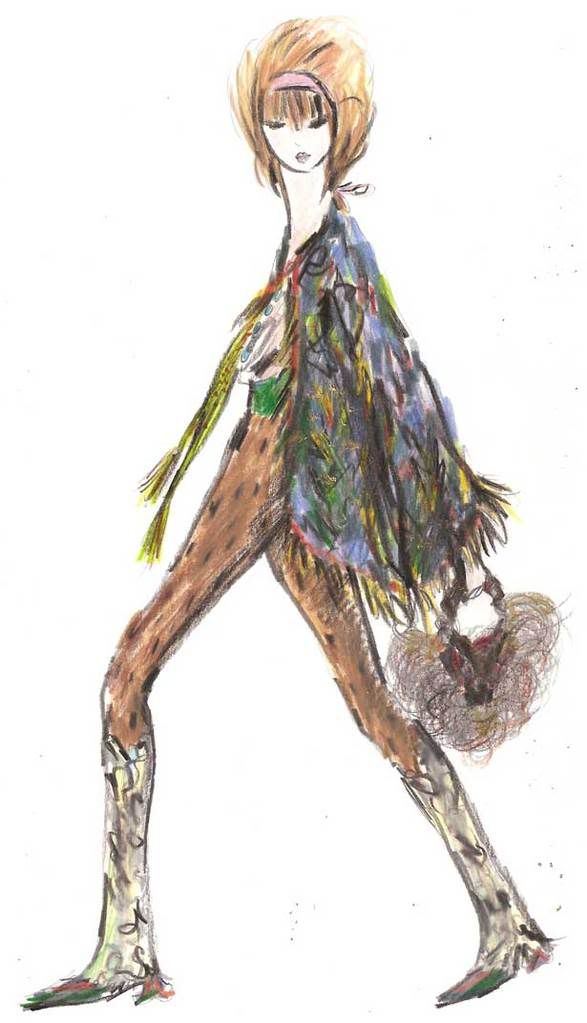 This sketch expresses the overall style mood of the exhibit. She is wearing stretch pants and a cape, striding with
freer
movement in the modern
Luxe
style. The cape is resplendent, with patchwork, feathers, quilting, light and airy, tied with silk tassels. The blouse is sheer, again cotton batiste, cinched with a wide green suede belt, leopard printed, stretch velvet pants with flared lace applique over decoratively embossed boots, all with big hair, pink headband and feathered bag. The hair is ratted high and tied in a tiny pony tail with a rose ribbon. It's opulent freedom.
Evening - an empire vintage Cardin-style dress, layered over a geometric printed knit T-neck, gold leggings, pink ornately bowed and trimmed 18
th
c mules, rose suede gloves, silver fan, black patent leather cap, pink hair.